A. K. Lawrence was the Rome Scholar in Decorative Painting for 1923.
An Allegory of Human Life
was one of the submissions with which Lawrence won the Scholarship.
The finalists for the 1923 Scholarship in Decorative Painting were Constance Grant, who submitted The Flight into Egypt, Doris Stacey, The Parable of the Lost Piece of Silver
Hugh Stutfield, Sophonisba's Cup, and Alfred Kingsley Lawrence An Allegory of Human Life.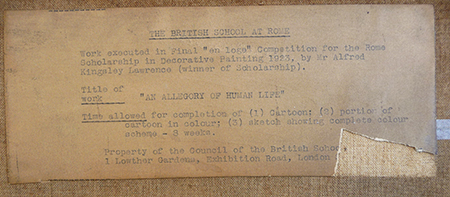 The competition rules required students to submit:
A a design for a decoration 6ft by 4ft consisting of not less than five figures, the principle figures to be not less than half-life size;
B a portion of the cartoon design in colour
C a study showing the complete colour scheme Choice of subject left to the candidate. Time allowed, eight weeks.
This was the first year of the Scholarship in which finalists were allowed to choose their own subject.