It has been suggested that the instruments depicted in this study might relate to either naval or fire service apparatus.
Lawrence served in both WW1 and WW2. In 1914, he had voluntarily joined the Northumberland Fusiliers 19th battalion (2nd Tyneside Pioneers), which was posted to France in 1916. He was mentioned in despatches in January 1917, most likely for his actions during the latter stages of the Battle of the Somme. Upon discharge in 1919, he resumed his scholarship at the Royal College of Art.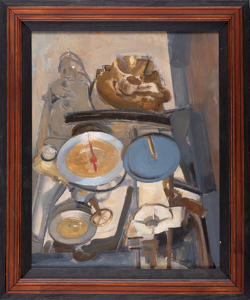 We are grateful to John Monnington for assistance.