Exhibited: – A Working Method,Young Gallery Salisbury, March- April 2016, Sotheran's, April-May 2016.
Literature: Charles Cundall – A Working Method, Edited by Sacha Llewellyn & Paul Liss, published by Liss Llewellyn Fine Art, February 2016.
After the First World War ended in November 1918, to jubilation and profound relief in Paris, unemployment surged, prices soared, and rationing continued. Parisian households were limited to 300 grams of bread per day, and meat only four days a week. A general strike paralyzed the city in July 1919. The Thiers wall, 19th-century fortifications surrounding the city, were demolished in the 1920s and replaced by tens of thousands of low-cost, seven-story public housing units, filled by low-income blue-collar workers.
Paris struggled to regain its old prosperity and gaiety.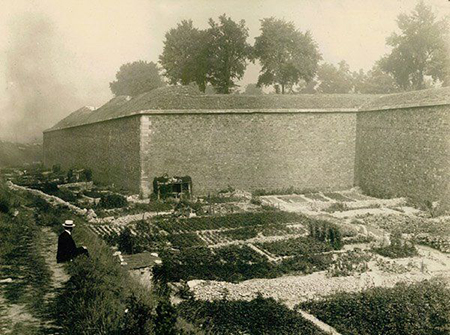 Thiers walls, demolished in 1920.