Exhibited: Royal Academy Summer Exhibition, 1940, (393)
Cundall's wartime view shows the dock at Falmouth with Falmouth Harbour beyond. Royal Navy ships – some with Dazzle Camouflage are shown at anchor, most likely having taken troops and and refugees from the ports of Brittany. Falmouth was a principal destination for the ships that evacuated western France. Whilst Dunkirk (to Dover) is more commonly recalled the evacuation of Western France, though equally significant, has been rather forgotten. The painting also includes a three-funnelled ship which is likely to be a French destroyer.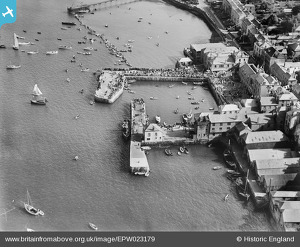 Aerial view of Falmouth Harbour
In July 1940, the WAAC offered Cundall a salaried six-month contract with the Admiralty, focusing on the work of the Merchant Navy:a timely subject that had been urged on the Admiralty by the Chamber of Shipping the previous spring.
Cundall's view of Falmouth Harbour from the Town Quay, exhibited at the Royal Academy in 1940, was one of his very first War paintings. Over 30 major oils by Cundall from the WW2 period are in the collection of the Imperial War Museum.
In 1941, after a brief lull following the end of his Admiralty employment early in the year, he was transferred to the Air Ministry, where he remained until 1945. Muirhead Bone wrote the catalogue Forward for one of Cundall's exhibitions in 1927 praising him as a 'Äúdetached observer we feel we can trust'Äù.
The National Maritime Museum have a related painting from 1940 entitled Battleships at Falmouth.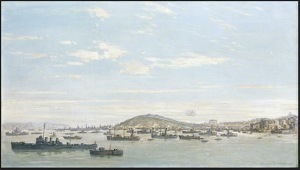 We are grateful to Ian Jack for assistance.