Clearly painted in situ, the use of several sheets of paper leaves an engaging record of Cundall's working method: his compositions evolved – almost unfolded – in front of him.

Cundall's working technique was dependant upon sketching on the spot to create images that would later be worked up into larger paintings in the studio. Here one would find him working form many drawings and colour notes accumulated during some recent journey. He prefers working with such aids to memory, on a fine canvas with soft hog and sable brushes, occasionally using a palette knife, and laying on colour instinctively rather than by methodical system. (William Gaunt, Charles Cundall R.A, A Study of his Life and Work).

Study for The Hipper at Kiel, c.1945. Collection of The Glasgow Museum
The German cruiser ADMIRAL HIPPER which was in dry dock at Kiel when the harbour was captured by the Allies. Both the German attempts to camouflage her and the damage caused by Allied bombers can be seen.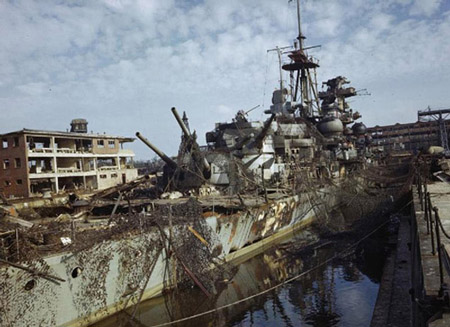 In July 1940, the WAAC offered Cundall a salaried six-month contract with the Admiralty, focusing on the work of the Merchant Navy:a timely subject that had been urged on the Admiralty by the Chamber of Shipping the previous spring. In 1941, after a brief lull following the end of his Admiralty employment early in the year, he was transferred to the Air Ministry, where he remained until 1945. Muirhead Bone wrote the catalogue Forward for one of Cundall's exhibitions in 1927 praising him as a 'Äúdetached observer we feel we can trust'Äù.