Literature: The Unknown Artist: Stanley Lewis and his contemporaries, Cecil Higgins Art Gallery & Bedford Museum, 12th June – 5th September 2010, Liss Fine Art, 2010.


Literature: Reproduced, Min Lewis, Laugharne and Dylan Thomas, 1967,
In 1955, at the instigation of Min, Stanley's wife, the Lewis family moved to Upton House in Laugharne. Min's intention was to undertake a book on Dylan Thomas, with whom she had been acquainted through a friendship with Thomas's wife Caitlin. Laugharne was described by Thomas as 'Äú…this timeless, beautiful, barmy town…'Äù (quoted in Laugharne and Dylan Thomas by Min Lewis, p. 9) and the project eventually came to fruition as Laugharne and Dylan Thomas, (published by Dennis Dobson, 1967).
Stanley additionally designed the program for the first performance of Under Milk Wood by the Llawregyb Players on 12th August 1958 and recorded the event in a series of pen and ink drawings.
Throughout this period Stanley and Min collaborated on the writing and illustration of Adventures in Animal Town, for The South Wales Evening Post.
A drawing relating to this, by Min Lewis, entitled How Mrs Robert's Wish Came True, is on the reverse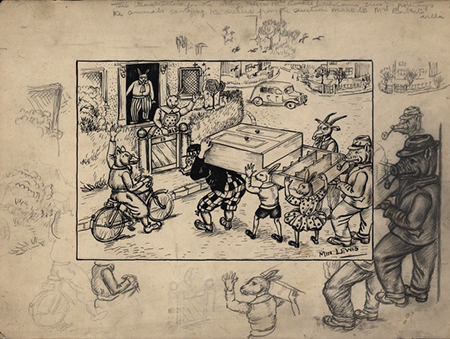 Aged 101 year Lewis reworked many of his drawings using Photoshop to add colour to the remarkable images which half a century earlier had graced the pages of the South Wales Evening Post.