Muriel Minter attended the Royal College of Art from 1921-23 and her peers included Ray Coxon and his future wife Edna Ginesi, Phyllis Dodd and her future husband Douglas Percy Bliss, and Gerald Cooper who Minter married in 1928 . Portraits of many of theses students, including  Cooper and Minter, are included in Dodd's early RCA figure composition of a Baptismal Group.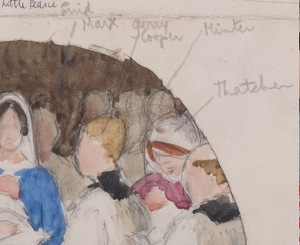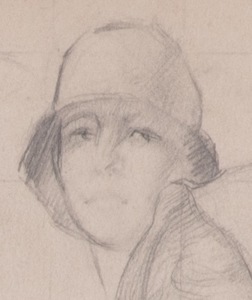 Phyllis Dodd achieved considerable success from early on in her prolific career. Studying at the Liverpool School of Art from 1917-21, she received a Royal Exhibition Scholarship and attended the Royal College of Art for four years' alongside Henry Moore (1898' 1986), Raymond Coxon (1896, 1997) and Edna Ginesi (1902' 2000), with whom she would remain friends for the rest of her life' winning the Drawing Prize in her final year.
From 1925 to 1930 she taught part-time at Walthamstow Technical College. In 1928, she married the artist Douglas Percy Bliss (1900' 1984) and they worked alongside each other, exhibiting together at Derby Art Gallery in 1947. She also exhibited at the NEAC, the RA, the RP, the Walker Art Gallery and the RSA, and in 1989 the Hatton Gallery at Newcastle University held a large retrospective exhibition to celebrate her ninetieth birthday.
Other portraits by the artist can be found in the collections of the Glasgow School of Art, The Stirling Smith Art Gallery, as well as Christ's College and Gonville & Caius College, The University of Cambridge.