A watercolour version of this composition, commissioned as a reconstruction drawing by the Ministry of Works, was used as the cover image for British Castles, 1974 and Early Wales Re-created, by D.W. Dykes (Author), Alan Sorrell (Illustrator), 1981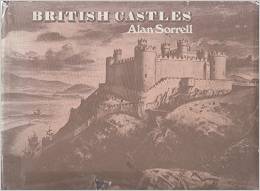 Harlech Castle, located in Harlech, Gwynedd, Wales, is a medieval fortification, constructed atop a spur of rock close to the Irish Sea. It was built by Edward I during his invasion of Wales between 1282 and 1289.
This picture was painted
as an example of Sorrell's work for George Rowney and Co the artists paint
manufacturers to show the versatility of 'Cryla' colour, the acrylic paint that
had recently been invented and which Rowneys were trying to market. The
picture was reproduced in a promotional book (written by John
Fitzmaurice Mills) along with paintings in Cryla by a good number of
well known artists, including Peter Blake and Leonard Rosaman. Sorrell's payment for this work was a free supply of artists materials
for the rest of his life.