Literature: Llewellyn, Sacha, and Paul Liss. Portrait of an Artist. Liss Llewellyn, 2021, p.68.
This is a preliminary sketch for a the background used in Sorrell's portrait of the Archeologist Sir Cyril Fox.
As Kenneth McConkey has observed, Piling up studio impedimenta into a large, jumbled still-life provided an instant test-piece for the nineteenth century painter- it was a genre that might typically include an exotic costume,a sword or piece armour, a lay figure or statuette, and maybe, a discarded hat. The purpose of this 'chaos decoratif' was to demonstrate the painter's abilities to prospective clients. It was a kind of badge or shop-sign.
We are grateful to Kenneth McConkey and George Fox for assistance.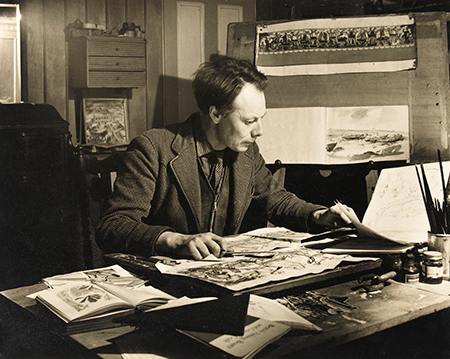 Sorrell at work in his studio circa 1950