Exhibited: WW2 – War Pictures by British Artists, Morley College London, 28 October -23 November 2016, cat 64.
Literature: Sacha Llewellyn & Richard Sorrell (ed), Alan Sorrell; the Life and Works of an English Neo-Romantic Artist, (Bristol: Sansom & Co.) 2013, p 98-115; WW2 – War Pictures by British Artists, Edited by Sacha Llewellyn & Paul Liss, July 2016, cat 64, page 101.
Towards the end of the War Sorrell painted a large (85x188cm) oil painting of an RAF aerodrome, and this sketch is a preparatory drawing for this major work (now in the RAF Collection, Hendon).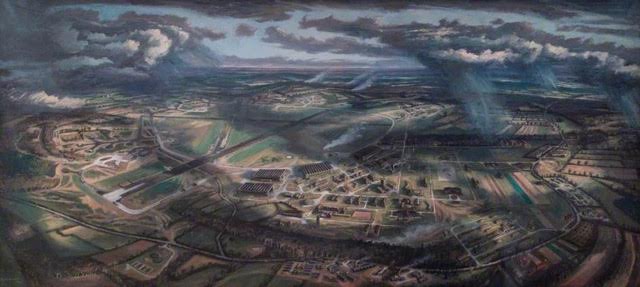 Alan Sorrell made a considerable reputation for his remarkable reconstruction' drawings of ancient sites, shown as they appeared in their heyday. The drawings and paintings combine his keen interest in history, and collaboration with archaeological and historical experts, with a vivid artistic imagination and sense of spatial awareness.
This work brought him into close working relationships with many of the foremost archaeologists of his day, including Sir Cyril and Aileen Fox, Sir Mortimer Wheeler, Leonard Woolley, Kathleen Kenyon, Ian Richmond, Richard Atkinson, Stuart Piggott, V E Nash-Williams, Stuart Rigold and many others.
As was his practice with mural paintings, Sorrell made sketches and preparatory drawings, which led to the finished reconstruction drawings. These works were commissioned by the Ministry of Works (English, Welsh and Scottish Heritage), The
Illustrated London News, television companies and others.