Search lights relates in both time and subject to a body of work Sauter made in October 1940 aircraft contrails during the Battle of Britain.  Four of these are in the collection of RAF Hendon.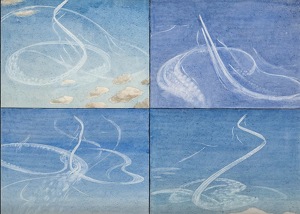 During World War II, Rudolf Sauter was an Army Welfare Officer under South Eastern Command. Although he was never an Official War Artist, the events he witnessed informed his work. Sauter produced imaginative compositions with prophetic titles inspired by events he had observed; but he was disinterested in attempting to portray a faithful account.
A number of Rudolf Sauter's drawings are in the collection of the Imperial War Museum.
We are grateful to Jeffrey Reznick for assistance.