Exhibited: Evelyn Dunbar – The Lost Works, Pallant House Gallery, October 2015 – February 2016, cat 76.
Literature: Evelyn Dunbar – The Lost Works, eds Sacha Llewellyn & Paul Liss, July 2015, cat. 76, page 120;
Evelyn Dunbar: A Life in Painting, Christopher Campbell-Howes, October 2016, page 241.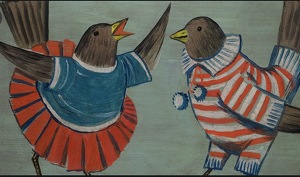 This panel was painted to advertise The Children's Shop, Jessie and Marjorie Dunbar's (Evelyn's sisters) shop in Rochester High Street as part of an exhibition of Dunbar family businesses in December 1938. It was designed to be suspended from above, like an inn-sign. Over the years Evelyn contributed various forms of artwork, headed notepaper (Evelyn Dunbar – The Lost Works CAT 80) and other stationery (idem CAT 77), publicity panels and this delightful signboard for the shop with its frolicking mice and sparrows (idem CAT 76). Peyton Skipwith
We are grateful to Christopher Campbell-Howes for assistance.