Exhibited:
Evelyn Dunbar – The Lost Works, Pallant House Gallery, October 2015 – February 2016.
Literature:
Evelyn Dunbar –
The Lost Works
, Sacha Llewellyn & Paul Liss, July 2015,
cat 121
,
page 171.
Some pages from sketchbooks cat 121 and 122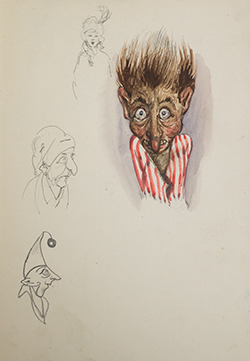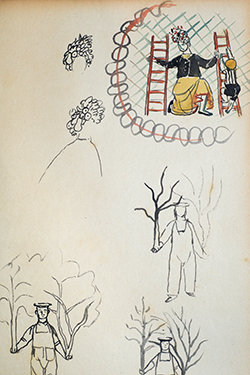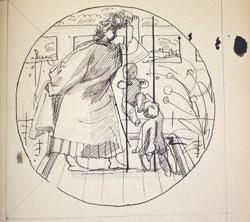 In general Dunbar preferred loose cartridge paper for her sketch work, but occasionally she resorted to cheap sketch books if ever she had a single idea to work out in many examples. One such dates from 1935, when Dunbar was working out tartan-based designs for the cover of The Scots Week-End and Caledonian Vade Mecum for Host, Guest and Wayfarer, a miscellany which she illustrated with line drawings.

Sketchbooks & Ephemera
"When Evelyn Dunbar enrolled at the Royal College of Art in 1929 it was a toss-up
as to whether she would apply for the Design School or the Painting School and although
Painting won she maintained a strong interest in design and included many designerdraughtsmen among her friends, particularly Edward Bawden and Barnett Freedman.
Like them she enjoyed free-hand pattern-making and filled many sketchbooks with
pictorial jottings of people, places and incidents which could be worked up later when
required into vignettes to decorate such publications as The Scots Week-End (page
170) and Gardeners' Choice (pages 82-95). Equally, they could be incorporated into
subject paintings like The Days of the Week, or used in any one of her other decorative
projects. Whether working in sketchbooks or on loose scraps of paper she was happy
drawing in line either with pen or pencil, or with clean strokes of a well-charged brush,
using the latter particularly to create decorative patterns often reminiscent of Vanessa
Bell's designs for Hogarth Press bookjackets for her sister's 'Äì Virginia Woolf's 'Äì novels.
Through Mahoney and other Royal College contacts she would also have been familiar
with the work of the Curwen Press, particularly the pattern papers inspired by the
recently deceased Claud Lovat Fraser and produced by Paul Nash, Edward Bawden,
Enid Marx and others.
In her early days she had a natural playfulness which is reflected in her illustrated
letters to Jane Carrington and Edward Bawden; those to Charles Mahoney – who she
addressed variously as Dear Chas', Dear Matey Cock' or My dear old potting shed'
– stand out particularly. By the late 1930s this natural gaiety and joie de vivre gave
way to a less light-hearted mood as the disparity between her Christian Science
upbringing and Mahoney's atheistic socialism increasingly drove a wedge between
them. Apart from the rift with Mahoney this mood of greater seriousness chimed with that of the country as a whole as the clouds of impending war grew ever darker. Her Shell
poster designs (CAT 82-84) probably date from this time and it is probable that Barnett
Freedman encouraged her to produce some possible ideas as, in the late 1930s, he was
commissioned by his friend Jack Beddington, who ran the Shell publicity department,
to create puzzle' advertisements for use in various technical journals. Dunbar may
have thought that with their simple kitchen imagery of shelling peas combined with semihumourous captions 'Äì I Shell', Thou Shellest' 'Äì they might appeal to various ladies'
journals. (see Ruth Artmonsky, Jack Beddington, The Footnote Man, London, 2006, p.54). It is not surprising that they were not developed further, but they were the precursors
to Dunbar's Mother Hubbard (CAT 81) commissioned by I C I, and used for publication
in a variety of different publications in much the same manner as Beddington's puzzle'
advertisements.
Scrapbooks and artists' Christmas cards were a particular feature of the interwar period
and beyond. Edward Bawden's and Eric Ravilious's scrapbooks in the collection of the
Fry Gallery, Saffron Walden, contain many examples of cards from John Piper, Graham
Sutherland, Geoffrey Rhoades and other artist friends, including Dunbar and Mahoney.
After her marriage to Roger Folley Evelyn continued to produce her annual card usually
accompanied by some verse by her husband: that for Christmas 1947 – one of the
bleakest of postwar winters – depicts a particularly jolly figure of Pomona, the Roman
goddess of fruit trees, gardens and orchards (FIG 23), reminding us once again of
Evelyn's delight in animating the spirits of the months and seasons, virtues and ancient
gods. Christian Science could not erase these pagan deities from her pantheon."
Peyton Skipwith