Exhibited: The Lightbox, Woking, Out of the Shadows, 2020, cat 52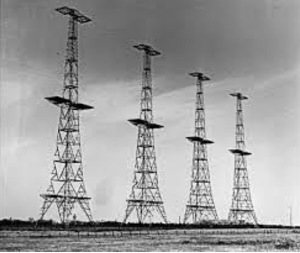 Chain Home, or CH for short, was the codename for the ring of coastal Early Warning radar stations built by the Royal Air Force (RAF) before and during the Second World War to detect and track aircraft. The first five stations, covering the approaches to London, were installed by 1937 and began full-time operation in 1938.The Chain Home network was continually expanded, with over forty stations operational by the war's end. CH was not able to detect aircraft at low altitude, and from 1939 was normally partnered with the Chain Home Low system, or AMES Type 2, which could detect aircraft flying at any altitude over 500 ft (150 m).
We are grateful to Andrew Cormack for assistance.