In 1925, Monnington was completing his final year as the 1922 Scholar in Decorative Painting at The British School in Rome.  Having married Winifred Knights in 1924 the newly-weds made several painting trips outside Rome visiting their favourite haunts, espeically in the province of Perugia.
This panel, painted en plein air, was produced in the same year that Monnington was completing his epic Allegory, (Tate)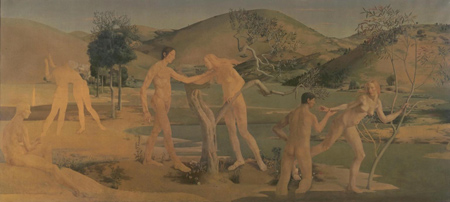 Nocera Umbra is a town in the province of Perugia, Italy, 15 kilometers north of Foligno, at an altitude of 520 m above sea-level.