Freedman married fellow student Claudia Guercio in 1926 in a match initially kept secret from her disapproving parents. They lived in two rooms near the Euston Road, one of which Freedman used as a studio as he sought to combine theatrical activities with oil painting, remarking later I nearly starved'.
The scene depicted is probably a rehearsal, possibly for a play that Freedman, directing proceedings at the left, was intending to produce.
At the time Freedman greatly admired the East End dramatist Israel Zangwill and Freedman's obituary cited involvement in productions at the Little, Fortune and Scala theatres.
From various surviving studies several figures have been identified as RCA contemporaries. Roy Keevil is  the figure coming through the door. Barnett Freedman has his back to the viewer with a violin at his feet,  Frank Barber, an impecunious artist who Ravilious tried to obtain a commission for, but who later committed suicide, is at the piano.  Francis Spear is most likely the figure seated at the foot of the easel; the older figure seated on the floor behind is llikely to be William Rothenstein or Robert Buhler;  Alan Sorrell is portrayed full length, looking back to the viewer, Charles Mahoney is seated on the table, probably with Percy Horton seated next to him, leg raised, and G.K. Branson. Gerald Ososki is seated on the stool, with Hugh Finney to his left..  Possible candidates for the unidentified figure, (lounging across the two stools in the foreground), are Donald Towner, Athol Hay and  Albert Houthuesen.
The Stanhope Street Group makes an interesting pre-war pendant to Moynihan's celebrated group portrait of the Royal College of Art staff, (Portrait Group) from 1951.  Mahoney is the only artist to feature in both paintings.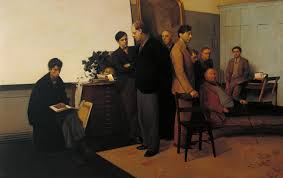 We are grateful to David Bratton, Andy Friend, Neil Jennings and Simon Lawrence  for assistance.
Studies for The Stanhope Street Group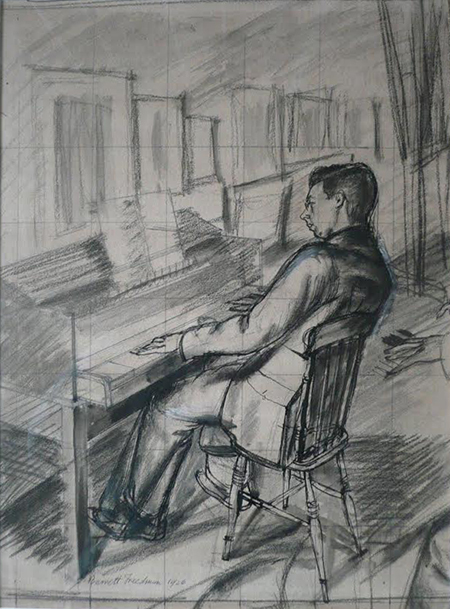 Barnett Freedman(British 1901 – 1958),Frank Barber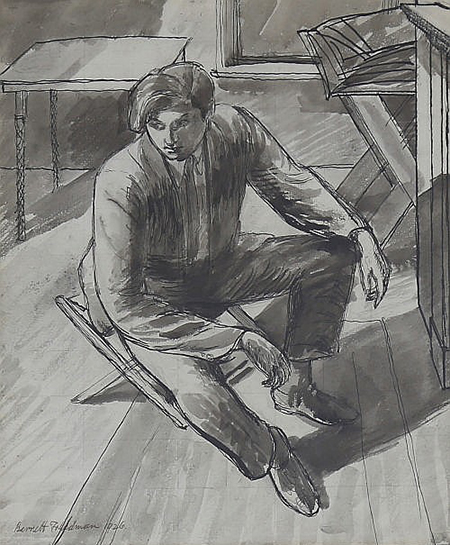 Barnett Freedman(British 1901 – 1958), Portrait of Gerald Ososki, signed and dated Barnett Freedman 1926; inscribed on the reverse For the Stanhope Street Group, drawn at Stanhope Street 1926/pen, ink and wash, 29cm x 24cm (11" x 9"), private collection.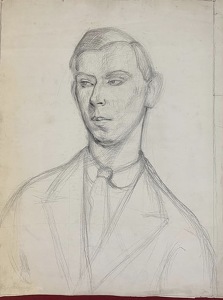 Barnett Freedman(British 1901 – 1958), Hugh Finney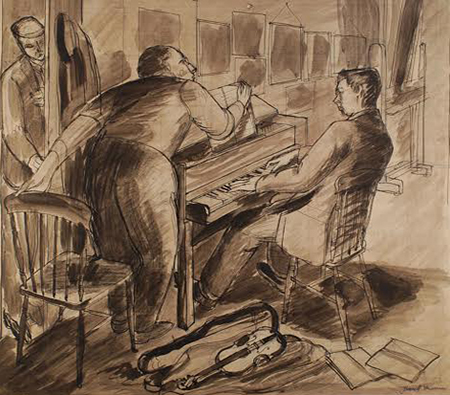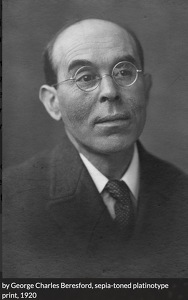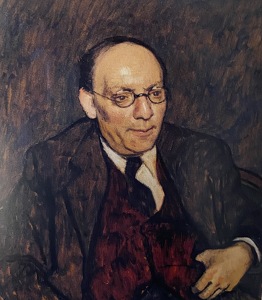 Robert Buhler by Barnett Freedman