Literature: Llewellyn, Sacha, and Paul Liss. Portrait of an Artist. Liss Llewellyn, 2021, p.187.
Claudia Freedman's output was relatively small, but her talent – though never fully given the chance to flourish – was arguably a worth rival to that of Barnett Freedman's. She studied at Liverpool School of Art and the Royal College of Art. Working initially under her maiden name, she took the name Claudia Freedman from 1930 when the two were declared as married, although they had secretly married when they first met at the Royal College of Art in 1924. They lived in two rooms near the Euston Road, one of which Freedman used as a studio.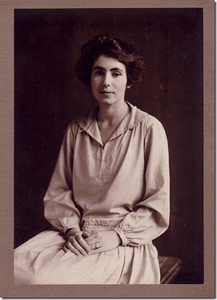 Claudia Guercio at her engagement to Barnett Freedman
A portrait of Charles Mahoney shows a similar setting and pose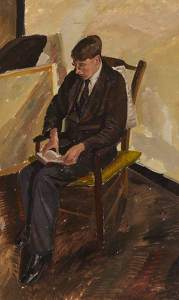 Charles Mahoney at Stanhipe Street, Ben Uri Art Gallery and Msueum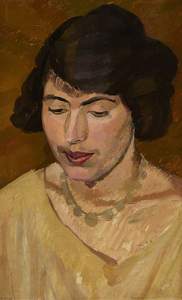 We are grateful to Vince Freedman, the artist's son, for his assistance.