Literature: Llewellyn, Sacha, and Paul Liss. Portrait of an Artist. Liss Llewellyn, 2021, p.185.
This portrait  – of  Claudia  Guercio;- was presented to the models  father around the time of her engagement to Freedman (in 1926 ) the year they married – their match initially was kept secret from her disapproving parents. Claudia and Barnett  lived in two rooms near the Euston Road, one of which Freedman used as a studio as he sought to combine theatrical activities with oil painting, remarking later I nearly starved'.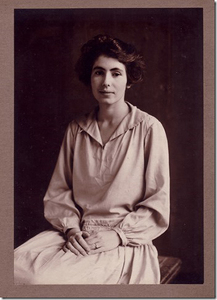 Claudia Guercio at her engagement to Barnett Freedman
Barnett Freedman is quite rightly held in the highest regard by those who are interested in such things. But his wife Claudia is almost forgotten. She was born Claudia Guercio in Formby, Liverpool, of Anglo-Sicilian parentage. She studied at Liverpool School of Art and the Royal College of Art. Working initially under her maiden name, she took the name Claudia Freedman on her marriage to Barnett Freedman in 1930. Compared to her husband, Claudia Freedman's output was relatively small, but works such as the autolithographed book My Toy Cupboard (undated but published in the 1940s by Noel Carrington's Transatlantic Arts) show that she had a talent equal to his.
We are grateful to Vince Freedman, the artist's son, for his assistance and Neil Philip for the above text.