In late 1932 or early 1933 Dunbar, then in her postgraduate year at the Royal College of Art was asked by her mural tutor Charles Mahoney to join his team of recent graduates t0 decorate the hall at Brockley School in south-east London. Excited by the prospect of working on extensive surfaces (and by the prospect of Mahoney's company), she volunteered readily. Initially she was assigned one of the five arched and recessed panels in the hall, each measuring 12′ x 8′ (3.65 x 2.15m), and began preliminary designs illustrative of Aesop's fables. One of her designs was Hercules and the Carter.
Hercules and the Carter 1933 Oil on paper 18 x 10in (45.7 x 25.4cm) Private collection
Dunbar has filled her design with various vignettes, some very surprising indeed: starting from the top right-hand corner, there's a row of telegraph poles, lifting us out of classical antiquity and into the here-and-now of 1933. Continuing clockwise, some aproned women in a field are pointing at the Olympian vision; the horse is munching at some wayside grass; next to the distressed, heaven-beseeching carter with his broken wheel is his lunch, wrapped in a red spotted handkerchief; spilled cabbages or turnips fill the lower left-hand corner; and moving up we recognise…why, this is the very image of women in a potato field, overseen by a farmer in gaiters and billycock hat, with which we started. But which came first, Dunbar's little background scene in Hercules and the Carter, or the separate image of Potato Field?
But there's something else that's strange: there's a faint black irregular line scrawled across Potato Field. It seems to echo some of the construction lines. Is it accidental? Does it have any purpose? Curiously, if this echo-line is followed and Potato Field is turned anti-clockwise by about 40°, the background re-orientates and the image turns into something richer, fuller and even iconic:
Women Planting Potatoes c.1932 Oil on board 41⁄2 x 41⁄2in (11.4 x 11.4cm) Private collection
Dunbar kept both this little painting and its earlier version, Potato Field, all her life. It's as instructive to see Dunbar's procedure in the deployment of these images as it is disappointing to know that Hercules and the Carter was never used.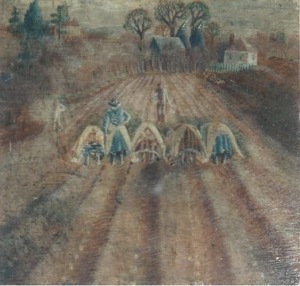 We are grateful to Christopher-Campbell Howes, author of Evelyn Dunbar: A Life in Painting, for the above text.