The design for wallpaper, used in Rowntree's home in Putney, combining enlarged versions of Ravilious wood engravings with those of Thomas Bewick.
Ravilious had been one of Rowntree's tutors at the Ruskin School, Oxford, in the early 1930s and was to remain the single most enduring influence on his design work, with the two men sharing a particularly fascination for letter-forms. This fascination is evident in a number of the glazed ceramics Rowntree made whilst at the RCA and also in Alphabet (c.1957) his roller-printed glazed cotton design for Edinburgh Weavers, which, with its delightful vignettes, is an unashamed homage to his mentor's pre-war Wedgwood Alphabet design. He paid a similar tribute to Ravilious's memory with the wallpaper he designed for his own use in the house in Ruvigny Road, Putney, to which he and Diana moved in late autumn 1949, in which he juxtaposed enlarged versions of Ravilious wood engravings with engravings by the late eighteenth-century master of the genre, Thomas Bewick, thus creating an elegant eighteenth-century papier peint effect.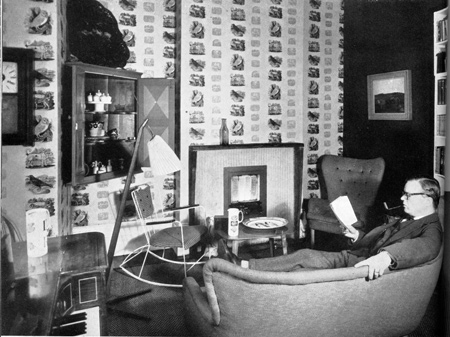 Photograph from House and Garden, Feb 1954 (photo by Michael Wickam)
Fig. 23 in Kenneth Rowntree, A Centenary Exhibition by Moore-Gwyn and Liss Llewellyn Fine Art, February 2015
Another influence on Rowntree at this time was Ben Nicholson, whose work he also greatly admired, and this is reflected in what is probably his most popular textile, Full Measure, a semi-abstract design of mugs, with particular emphasis on the curves of their handles; a hint of sea beyond helps convey a beguiling sense of leisure and pleasure. His other designs for Edinburgh Weavers, Marl and Herba are very different in feel just exploiting the pattern of bars of colour – yellow, orange, pink and bright green – against a dark ground.
Sheet of printed wallpaper, Fig. 24 in Kenneth Rowntree, A Centenary Exhibition by Moore-Gwyn and Liss Llewellyn Fine Art, February 2015