Literature: Kenneth Rowntree, A Centenary Exhibition, Moore-Gwyn Fine Art and Liss Llewellyn Fine Art, Cat. 9, p.34
Exhibited:
Ashmolean Museum, Oxford,
The Oxford Barges, May 1956; Bear Lane
Gallery, Oxford, February 1959, no.9;
Fry Art Gallery, Kenneth Rowntree, A Centenary Exhibition , no 23
Rowntree's paintings of Oxford Barges were shown at the Ashmoelan Gallery in May 1956. The Oxford Barges. The pictures were commissioned in 1956 by J.M Richards of The Architectural Review, to accompany an article written by Diana Rowntree.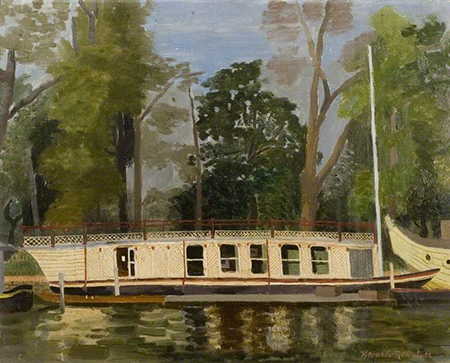 Yet while Rowntree spent much of the war painting relics of older times, he was not simply guided by nostalgia, and seldom edited out the signs of modern life when these occurred, relishing the jolt of anachronism and geometrical order they could bring. He did not pursue primitivism to the extent of breaking the conventions of scale and perspective, and his self-aware innocence should perhaps be attributed rather to a combination of personal preference and belief with a general enthusiasm for the fresh vision of folk art shared by many artist contemporaries.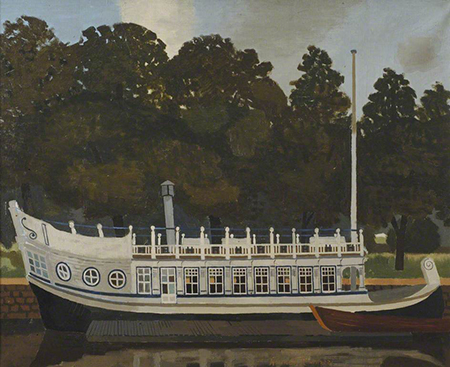 This affection for innocent decoration played an active role in Rowntree's work when he painted the Oxford College Barges, originally converted from London Livery Company Thames barges into slightly baroque viewing stations for college bumps', but by this time rapidly decaying. The paintings were used to illustrate an article by Diana in the Architectural Review in July 1956, arguing for a more sensitive approach to the planning of boathouse buildings along the Isis, and shown at the Ashmolean Museum, helping to stir an effort to save the barges, Alan Powers, Kenneth Rowntree a Centenary Exhibition, p 35