Literature: John Milner, Kenneth Rowntree,
Lund Humphries, 2002, p. 59, illustrated (pl. 56);
Kenneth Rowntree,
A Centenary Exhibition, Moore-Gwyn Fine Art and Liss Llewellyn Fine Art, 2015, Cat. 51, p.97
Exhibited: Tyne and Wear Museums, Kenneth
Rowntree: paintings, drawings and collages,
December 1976 – January 1977, cat no. 101;
Davies Memorial Gallery and Oriel 31, Welshpool,
Kenneth Rowntree, June–October 1992, cat no. 43
A related, later composition, is in the collection of The Laing Art Gallery, Newcastle.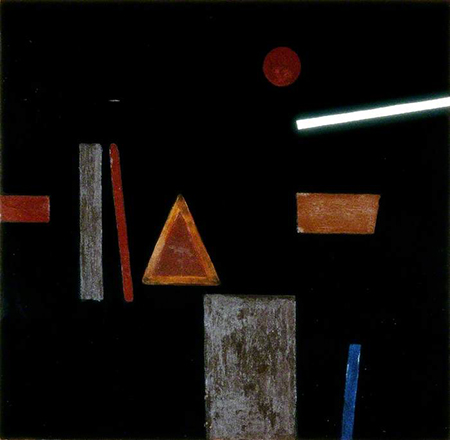 Black Painting 1, 1962, Laing Art Gallery
Rowntree developed sequences of works on a single there permitting the viewer to trace the variants….. Three variations called Shapes in Movement II followed Black Painting. Their perspec upper surface has another layer below so that changes appear as the viewe rmoves. Shapes on Blue II finally relinquished the triagle motif, but retained the 'cue' motif. A final variation was constructred in perspex, a specific response to the demain to use synthetic materials. Here the variation is almost independent of its theme. Structurally close to Pasmore's work, its wit is wholly Rowntree's. This was an intellectual and creative dialogue more radical than the Royal College provided. It was a game Rowntree played his own way, adding an edge of irony that delighted him.
John Milner, Kenneth Rowntree,
Lund Humphries, 2002, p.59