In 1959, Rowntree became Professor of Fine Art at Durham University and it was there that he came into contact with Victor Pasmore, precipitating a further 90¬∞ turn in his work. During the 1960s and 1970s, he created a series of bright, hard-edged, geometric, non-figurative works, often incorporating lettering, either painted or collaged. He also delighted in recycling and reworking objets trouvés and bits of old packing cases, complete with stencilled names and addresses.
Despite this, he never totally relinquished his earlier Romantic vision, switching back, albeit in a more simplified vein, when the mood took him. This can be seen in a series of beguilingly playful landscapes that Rowntree produced in the 1980's, from his Northumberland home at Acomb, just North-west of Hadrian's Wall.
A Game of Boules is very characteristic of this work; so too The Naming of the Parts, 1987, where the trees in Rowntree's Acomb garden are variously inscribed Victoria Plum', Holly', Hawthorn' and so on, as if it were a manual for the identification of foliage.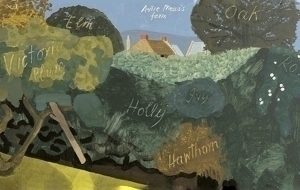 Inscription in artist's hand, on reverse: