Literature: The Spencers and Carlines in the 1920s, Cookham, Berkshire, 1973; Richard Carline, Anthony d'Offay Gallery, London [n.d.] (no. 16)
Llewellyn, Sacha, and Paul Liss. Portrait of an Artist. Liss Llewellyn, 2021, p.196.
Richard Hartley met Sydney and Richard Carline at Percyval Tudor Hart's art school in Paris in 1913. He studied at the school when it moved to Hampstead late in 1913; he introduced Richard to Stanley and Gilbert Spencer in Cookham in 1915. He saw Richard and Hilda again in the early 1920s when all were studying at the Slade; he was a mainstay of the annual Slade Christmas Party. He went on summer holiday with the Carlines and Stanley Spencer in Andorra in 1923.
In 1921, I decided to attend the Slade under Henry Tonks. About this time, I painted a large family group seated round the dining table at 47 Downshire Hill, in Hampstead. Eddie Marsh bought it for the Contemporary Art Society but, alas, it was destroyed in the Tate Gallery flood. Three years later I painted a still larger family group on the terrace at Downshire Hill with Henry Lamb and Stanley Spencer, who was soon to marry my sister Hilda' (Richard Carline, introduction to his own exh. cat.,Anthony d'Offay Gallery, 1975).

In his own words Carline described the group portrait:
"… [I] sought to convey the conflicting personalities gathered at our house – Stanley [Spencer] peering up and down as he expounded his views on this or that, James Wood hesitating in the doorway whether to come or go, Hilda absorbed in her own thoughts, Hartley sitting at ease, Lamb courteously attentive to my mother, with Sydney always helpful…"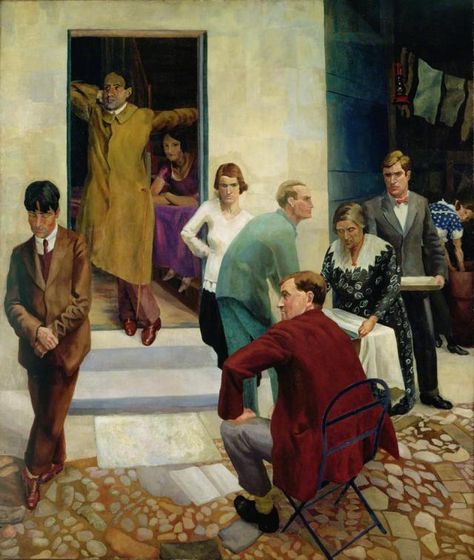 We are grateful to Hermione Hunter and Jonathan Black for assistance