Clarabella is one of three variants for Stephenson's large mural commissioned by the Industry Building at the Festival of Britain. The exhibition was entitled Sixty paintings for 51. Works submitted were to be a minimum of 45 x 60 in. The oldest artist asked was W G Gillies (73 at the time), the youngest Lucian Freud (29). Other artists selected included John Armstrong, Edward Burra, Ivon Hitchens, L S Lowry, John Minton, William Scott, Keith Vaughan, Carel Weight and Rodrigo Moynihan.
Stephenson's finished mural was to employ luminous paints, newly developed by G.E.C. Industries. Although the commission was not always trouble-free, it was an opportunity for the artist's work to be seen on a large scale and by a huge audience. The other variants that Stephenson produced are Divertimento (Private Collection) and Painting: Design for the Festival of Britain, which is now part of the Government Art Collection (image below).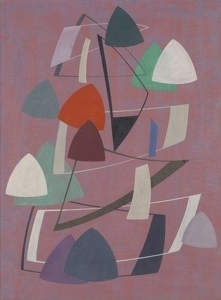 An image of Stephenson painting the finished mural for the composition.