Exhibited: WW2 – War Pictures by British Artists, Morley College London, 28 October -23 November 2016, cat 39.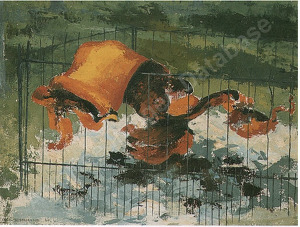 Literature: Simon Guthrie, John Cecil Stephenson, Cartmel Press Associates, 1997, p. 148. WW2 – War Pictures by British Artists, Edited by Sacha Llewellyn & Paul Liss, July 2016, cat 39, page 77.
The finished version of this picture was shown at Royal  Academy in 1945 & selected by British Council for exhibition in the provinces.
The V-1, developed by the German Luftwaffe during the SecondWorldWar, was the first guided missile used in war and the forerunner of today's cruise missile. Between June 1944 and March 1945, it was fired at targets in London and Antwerp. The simple pulse-jet engine pulsed fifty times per second, and the characteristic buzzing sound gave rise to the
colloquial name of doodle-bug (after an Australian insect).
This picture depicts the remnants of a doodlebug, which Stephenson (whoseHampstead studio was damaged during the Blitz in 1940) saw on the Heath in 1945.The picture was exhibited at the Royal Academy that year (cat.no. 96)and subsequently went on tour with the British Council.
Stephenson made his first abstract paintings around 1932. In 1934 he exhibited with the 7 & 5 Society, along with Ben and Winifred Nicholson, Ivon Hitchens, Henry Moore, Barbara Hepworth and John Piper. Though not today as well known as many of his contemporaries he was one of the key figures in the development of abstract art in Britain.  Indeed Herbert Reed noted that Stephenson 'was one of the earliest artists in this country to develop a completely abstract style' and credited him with being  the father figure of the 'gentle nest of artists' (Ben and Winifred Nicholson, Barbara Hepworth and Henry Moore) who occupied the Mall Studio's in Hampstead.  At the beginning of WW2 Calder and Mondrian counted amongst his friends and were frequent visitors to The Mall Studios.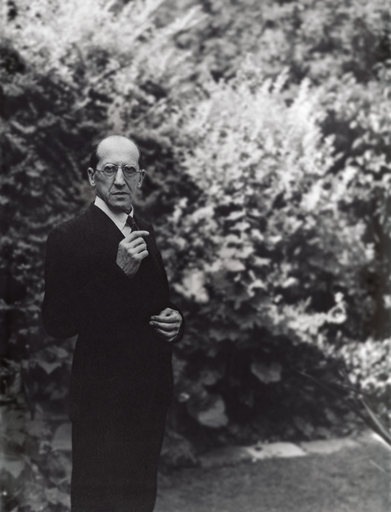 Estate of John Cecil Stephenson/Tate Archive