"Steamboat' (Cecil) was my art teacher for five years at the Department of Architecture in the Northern Poly. He took us to the V & A on Fridays to draw many of the exhibits there. I was well acquainted with his studio and workshop in Hampstead.
Before my Finals I asked if he would paint me a copy of his abstract, now in the Tate. As a student I could not afford his fee, so he suggested a two thirds sized copy for £60. I still have it, together with his letter telling me it was finished. A lasting memory of a quiet and methodical teacher.'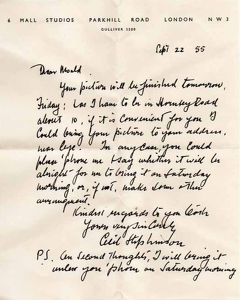 We are grateful to Tony Mould for assistance.