Exhibited: WW2 – War Pictures by British Artists, Morley College London, 28 October -23 November 2016, cat 35.
Literature:
WW2 –
War Pictures by British Artists
, Edited by Sacha Llewellyn & Paul Liss, July 2016, cat 35, page 71-72.
Full inscription on reverse: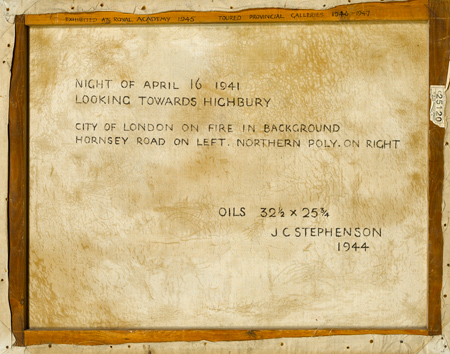 This painting records the massive attack which took place overnight on 16th April 1941 when the Luftwaffe bombed London with 681 aircraft.
This view is – with some artistic license – taken from eastern Highgate/Crouch End (possibly
Queens Wood). Although Stephenson had been made redundant by Northern Poly in 1940 (he had been Head of Art there from 1922) he did continue a fire watching at the Poly throughout the war.
Stephenson at the time was living at No. 6 Mall Studios in Hampstead (which in 1940 was damaged in the Blitz). – His neighbours Ben Nicholson and Barbara Hepwoth had already evacuated their studio at the start of the war and left London for Cornwall, the lease having been taken on by Henry Moore.
Stephenson, who in the early 30's had been according to Read, one of the first British artists to painting purely abstract paintings' returned temporarily to figurative work during the war, though his work was clearly much informed by his pre-war interest in abstract form.
The only artists consistently neglected by the WAAC were those pure painters whose work did not evince an interest 'in facts, drama, human emotions and life generally, and especially Clark's particular
bête noire
– Ben Nicholson, Barbara Hepworth, and others – who made 'pictures which represent…nothing at all but squares and circles'.
We are grateful to Brian Foss and Michael Barker for assistance.