Brangwyn designed several versions of the Rub√°iy√°t of Omar Khayy√°m including two for T N Foulis, one in 1910 with with eight illustrations by Frank Brangwyn and a new edition was published 1919 with a further seven illustrations in addition to the original eight.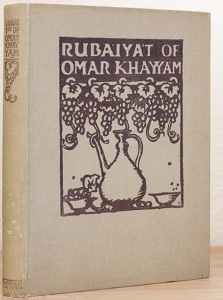 Other designs included the cover, title page and 5 colour illustrations for The Rubaiyat of Omar Khayyam published by Gibbings & Co, in 1906.
Between 1890 and 1948 Brangwyn produced original illustrations for over 80 books. In his youth the impetus may have been financial – it was good bread and butter work. Many of the early illustrations were painted in grisaille on cheap board, involving minimal expense. It also has to be admitted that a large proportion of these early daubs are pretty dire – Brangwyn wasn't about to waste time on such matters. And yet, at the same time, such work was a good means of advertising oneself.
Brangwyn's interest in publishing improved in tandem with progress in reproduction. He gradually moved to painting illustrations in colour and these oils had a higher marketable value quite apart from the printing considerations. The compositions also improved, and he became an extremely knowledgeable and fastidious editor of reproductions of his own work.
In his prime Brangwyn had more than enough commissioned work to keep him busy but still kept illustrating books – perhaps he couldn't resist the challenge. For example, in Illustrators, The British Art of Illustration 1800-1999, Seymour-Smith noted that Les Villes Tentaculaires was Verhaeren's 'most ruggedly powerful book of poetry. Although this ends with a statement of faith in science, it is a deeply pessimistic collection, a thrilled and hallucinatory account of the desecration of nature by machinery. This theme would present an appropriate challenge to Brangwyn, a negative counterpart to his vital imagery of man the worker, and his finished illustrations demonstrate how successfully he demonstrated it.' Brangwyn was working, as modern parlance would put it, outside the box, outside his comfort zone, and yet captured the essence of Verhaeren's work. Brangwyn could equally well illustrate a Christian theme, as in his Stations, published as The Way of the Cross. In the introduction G K Chesterton termed Brangwyn 'the most masculine of modern men of genius' and thought that he treated the work 'very individually with things which many would now associate rather with a certain type of crystalline severity in the primitives; with the most awful austerity and renunciation, and with the secrets of a more than human sorrow'.
There were three other possible reasons Brangwyn continued to illustrate books, one charitable, the second a social conscience and the third an inability to refuse friends. The covers Brangwyn designed for Hugh Redwood's books are a paradigm – the artist was persuaded by the Rev Arthur Hird, Editor of the Theological Literature Department of Hodder and Stoughton to participate and the books themselves were concerned with the work of the Salvation Army in the slums. Brangwyn also agreed to design the cover for William Bolitho's book, Cancer of Empire, a social diatribe about living conditions in Glasgow. Other examples of charity: designs for the National Institute for the Blind were a gift, the profits from Land of my Fathers – A Welsh Gift Book went to the National Fund for Welsh Troops, royalties from Belgium went to the Belgian Relief Fund, the cover for Launch, A Lifeboat Book was a gift and the Queen's Book of the Red Cross was sold in aid of the Lord Mayor of London's fund for the Red Cross and the Order of St John of Jerusalem.
William Walcot was a friend and fellow artist and Brangwyn lodged the Walcot family in the Jointure Cottage for a few years. Walcot was a Shropshire man and probably persuaded Brangwyn to collaborate with him producing the privately published Pageant of Ludlow. In 1634 John Milton's Comus was produced on Michaelmas night at Ludlow Castle, seat of the Earl of Bridgewater. To celebrate the tercentenary Shropshire held a revival of the Masque, and the book was produced to recall other conspicuous events in the county's history. John Drinkwater, who wrote the introduction, considered the result 'a portfolio in which artistic and historic interest make a distinguished contribution'. Brangwyn and Walcot also illustrated Nero and Modern Times.
As Brangwyn grew older his superstitious religious outlook dominated and he produced over 60 illustrations for a Life of St Francis (unpublished) and a number of small etchings for a Book of Job. In 1946 he wrote that he was filled 'with pains, I am rather in the right mood to feel with Job and his misery' and that he was 'trying to finish the set of small etchings for the book of Job – very difficult as they are so small – I have before me a print of S Palmer to inspire me but I fail to understand how he did the fine work, and at the same time keep the bigness etc. – wonderful work'. Four months later he could announce 'I have completed the set of little etchings for the book of Job. very poor stuff I fear. it is impossible for me to attempt to do them in a spirited way, such as old Blake, so they are just illustrations of camels, sheep and men and women of the east, such as one sees today and no doubt the same in the days of Job'. He was still concerned about this book two years later, fearing that the plates 'will be bad. it is a great vanity on my part to attempt all this, and I wonder if one is not committing a sin doing this'.
We are grateful to Dr Libby Horner for the above text