Brangwyn's celebrated murals for the Rockefeller Center adorn the facade of the Comcast building, situated at the heart of the center at 30 Rockefeller Plaza.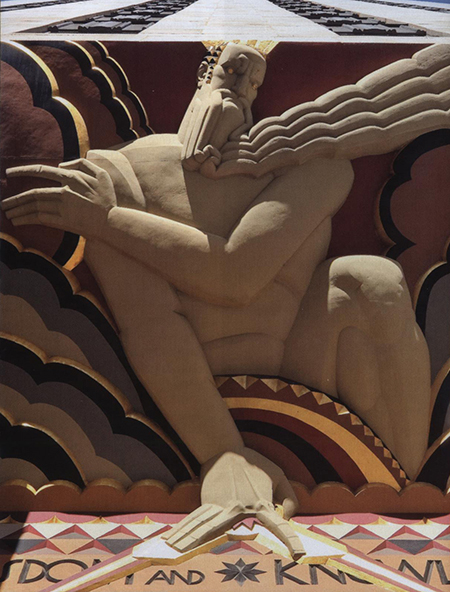 The murals decorate the main atrium around the entrance to the lifts.
In 1932, Brangwyn was commissioned by J. D. Rockefeller Jr. (1874-1960) to produce four large murals for the RCA building, the centrepiece of the Rockefeller Plaza in Manhattan, New York. These are still in situ in the entrance hall, decorating the area of the south corridor elevator shafts, each measuring 17 x 25ft.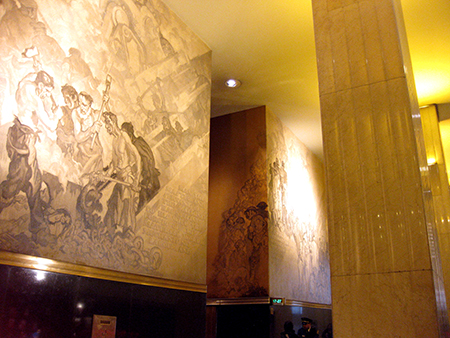 J. D. Rockefeller Jr. had originally approached Pablo Picasso (1881'Äì1973) and Henri Matisse (1869'Äì1964), but both artists turned the commission down. Brangwyn, Josep Maria Sert i Badia (1874'Äì1945) and Diego Rivera (1886'Äì1957) were subsequently appointed to carry out the scheme. The three artists were briefed to work on canvas, (of which no more than 75% was to be covered), to paint en grisaille and to include some lettering in their designs. The broad subject matter of the murals was 'New Frontiers', encompassing aspects of a modern society, including science, labor, education, travel, finance and spirituality. Brangwyn was assigned four themes expressing man's search for eternal truth: Man Laboring; Man the Creator; Man the Master; Man's Ultimate Destiny. 
In May 1933, the murals made headline news when a public dispute arose between Rockefeller and Rivera; Rivera had included a portrait of Lenin on one of his canvases, and it was subsequently destroyed. In September 1933, Brangwyn also faced controversy when objections were made to his inclusion of Christ in a scene representing the Sermon on the Mount. To solve the dispute, Brangwyn discreetly reversed his figure – as seen in the image below. The irony that Christ had turned his back on Rockefeller was not lost on some observers.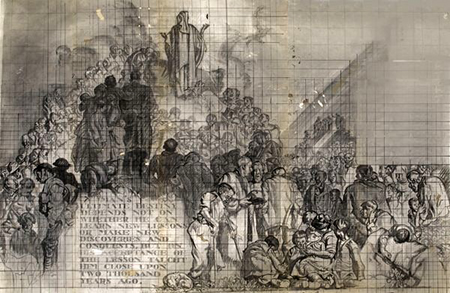 These two full-size studies are likely to have been made by Brangwyn in order to explore the formal and technical dimensions of his design. Finding his studio in Ditchling too small to accommodate the murals, Brangwyn was granted permission to use one of the rooms in the Brighton Pavillion to carry out his work. He never saw his paintings in situ.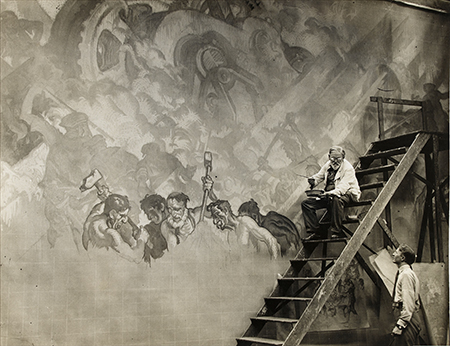 Brangwyn's Rockefeller murals are similar in spirit to many of the works produced for the Works Progress Administration (WPA) scheme. Brangwyn's murals also bare comparison to the Soviet realist aesthetic of the period, in which workingmen and women were celebrated in patriotic images. Brangwyn later gave these studies to William de Belleroche, the son of his close friend Count Albert de Belleroche (1864-1944), the painter and lithographer.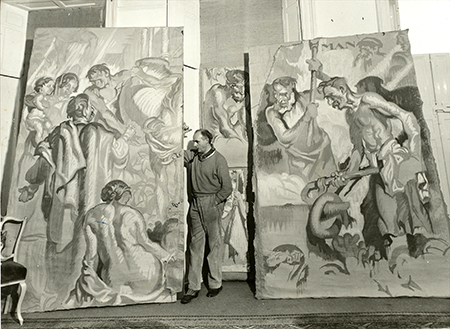 The following article discusses  Brangwyn's murals in their wider international context:
https://www.tate.org.uk/research/publications/tate-papers/27/muralism-and-anglo-american-exchange
We are grateful to Dr Libby Horner for assistance.  This study will appear in her forthcoming catalogue raisonne.