Literature: "David Evans (1929-1988)", edited by Sacha Llewellyn & Paul Liss, published by Liss Llewellyn Fine Art, 2017. ISBN 978-0-9930884-6-9. Cat 73, page 101.
Shingle Street is a small coastal hamlet in Suffolk, at the mouth of Orford Ness, situated between Orford and Bawdsey.
Shingle Street was originally a home for fishermen and river pilots for the River Ore. Early in the 19th century a Martello tower was built, (the inspiration for Evan's watercolour
Tower of Babel
) which was later a home for coastguards.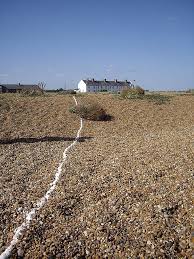 Shingle Street was the inspiration of the Thomas Dolby song "Cloudburst at Shingle Street", from the album The Golden Age of Wireless.
We are grateful to Pete Gage for assistance.