In1891 Brangwyn sailed to South Africa with William Hunt (it may have been as late 1890). This trip proved a turning point for Brangwyn. The sun drench colours resulted in a marked change of colour, with vibrant combinations especially of blue and red that led luminaries such as Kandinsky to later remark that he found Brangwyn to be one of the first artists to use these colours in a truly modern way. Brangwyn's work because highly sought after and was bought by collectors such as Shchukin, (better known as a patron of Gauguin, Picasso and Matisse).
Brangwyn visited Madeira on return voyage and may have visited east Africa. May also have visited Spain and Italy.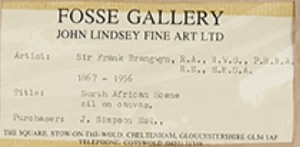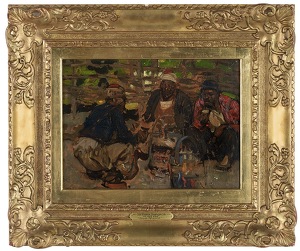 We are grateful to Dr Libby Horner for assistance.
This oil will appear as reference number 0 1163 in her forthcoming Catalogue Raisonné of Brangwyn.