Belleroche would have been a frequent visitor when visiting London from Paris, taking the boat across to Dover and then arriving by train into Charring Cross.  He painted a similar view, from the same high vantage point, by daylight: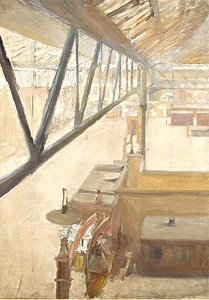 From the 1870's  onwards paintings of station interiors became one of the subjects closely associated with the Impressionists,  most notably Monet, who produced a  celebrated series of views of The Gare St Lazare.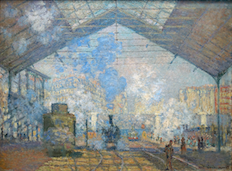 The original Charing Cross station was built on the site of the Hungerford Market by the South Eastern Railway and opened on 11 January 1864. Designed by Sir John Hawkshaw, with a single span wrought iron roof arching over the six platforms , the Station was relatively cramped.