Mahoney's first depiction of Adam and Eve appears to date to the beginning of his relationship with Evelyn Dunbar in the mid 1930s; references to 'ÄúCharlie and Eve'Äù occur in their correspondence. The idea of the Garden of Eden encapsulated the feelings of both about plants and nature, a passion nourished by frequent trips to Kew Gardens. Mahoney delighted in depicting different points in the narrative (The Garden, The Temptation, The Expulsion) and the subject remained a recurrent theme right through to his last decorative panel, The Muses, in which elements of his vision of paradise gardens combine to form a remarkable panorama
The Tate's Garden of Eden is reinstated as a horticultural fantasy, defined by its relationship with an unseen domestic interior. Mahoney's image of perfection glimpsed from a window was created in the mid-1930s, when the idea of the garden was actually an accomplice of suburbanisation.
For drawing, Mahoney liked a textured paper, soft to the touch, such as Ingres, or still better, hand-made papers from firms such as Hayle Mill or Barcham Green. His use of tracing paper, as in this study, was to facilitate transferring the final design to canvas. His drawing pens were either reservoir nibs in holders or else cartridge pens.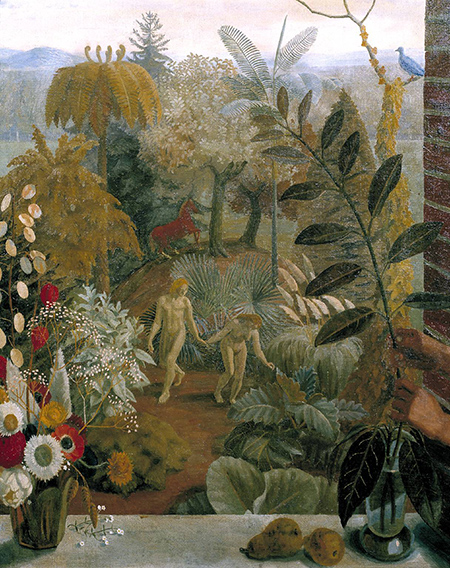 Adam and Eve in the Garden of Eden, Tate Britian, 1936