Provenance: the Artist's Estate (QO13)
In a pitch pine flat section frame with black inner and outer mouldings.
The same landscape appears in Charles Mahoney's 'Still Life with Landscape'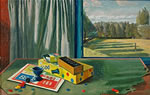 This is likely to be a view of the Willow
Grove at Great Bardfield, also painted by Ravilious and Bawden.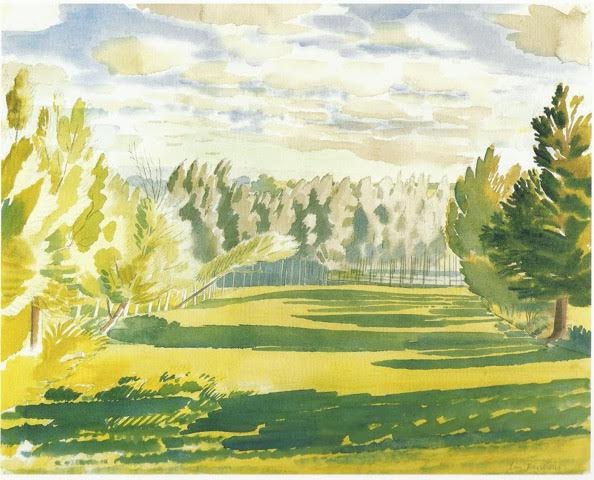 Eric Ravilious, Willow Grove 1933, watercolour 'Äì dated to the same year as Mahoney's Brick House stay.
Mahoney and Branson had a
lengthy stay at Brick House in the spring of 1933 (while Tirzah and Eric
were at Morecambe doing the hotel murals) and helped Bawden establish
the garden there – Tirzah wrote that it had been transformed by Mahoney
and Branson's efforts during their absence. This visit could possibly
have been the origin of the Mahoney painting. The Willow Grove was a
favourite nearby space for picnicking.
This is the Bawden drawing of a picnic at the Willow Grove, Great Bardfield, that appears as an illustration for July in Ambrose Heath's Good Food. It would have been done in the summer of 1932.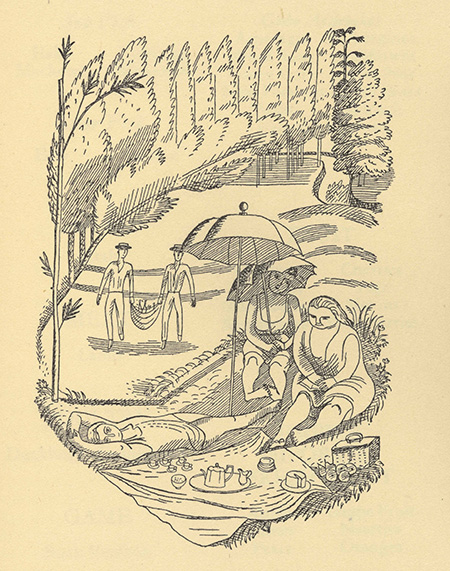 We are grateful to Andy Friend for assistance.